By
Shelby G. Floyd
We are looking forward to our heavenly home where we can worship and sing new songs with our Lord Jesus Christ. And it is so good to see all of you today. I hope you have had a good holiday. Sarah and I are celebrating our 62nd anniversary today. We feel really blessed because a lot of people do not get that privilege, and we are very thankful.
How many of you have had a kind of a homecoming over the last few days? In this day and time, our children and grandchildren move halfway across the country. And it is not very often that you can get all of them together. In fact, the last time I think we were all together was on my 80th birthday. We met down in Florida, and so it seems like it takes a special occasion for families to have a true homecoming.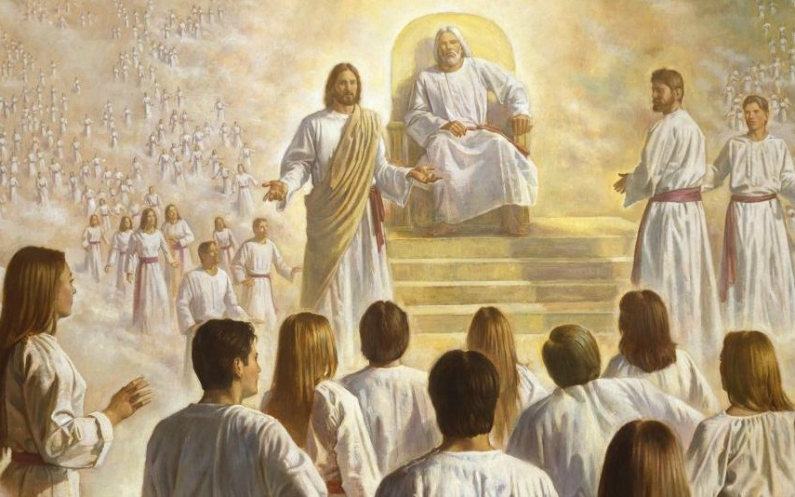 HOMECOMING IN HEAVEN
And that is what I wanted to talk to you about today—our homecoming in heaven! I was thinking this week about all our brothers and sisters that have left this earth since we started this congregation in 2000. We remember Jim and Bonnie Stephens and recently Jerry. We also call to mind George and Helena Thompson and their daughter Tricia and so many others. And I thought, they are no longer with us, but we are going to have a grand reunion one of these days and be happy forevermore.
Now if you were going to move someplace that you never had been before, would you not try to find out everything you could about it before you went there? I have a cousin that lives in New Zealand. I have never met her, but we communicate online. But if I were going to go over to New Zealand even to visit, I think I would do a lot of research and try to find out everything I could about the climate, the places to visit and things like that.
Well, I am surprised that so many people today when they get ready to draw their last breath and go to meet God, they don't seem to know very much about heaven. I heard a preacher say one time, "If suddenly God said that there is no hell, how many people would still want to go to heaven"? It maybe that there are a lot of people that just want to escape hell and since they do not know much about heaven, they do not really have too much desire to go there. And then maybe they think that it is going to be a place where Mitch and I will get up and preach all the time! And Damon and Jim will be constantly leading us in singing in worship. And they say, "If that is the way it's going to be, I don't think I really care that much about going."
Heaven is known by a lot of different figures of speech, and that is to help us understand that heaven is made up of beautiful and wonderful things. It's a Country, it's a City, it's a Kingdom, it's a Home. It's a Bride. Heaven is going to be like a bride adorned for her wedding day. And it's going to be a place of Rest. As you can see, there is a lot about what heaven will be like revealed in the scriptures and I want to emphasize that today. For instance, heaven will be a CITY. We like to be close to a city because of all the amenities that are available. The heavenly city will be 1500 miles square, so there will be room for everyone to enjoy what God has prepared for us. By faith Abraham "…looked for a city which has foundations, whose builder and maker is God" (Hebrews 11:10).
Heaven will be like going to the COUNTRY. We like to go out in the country. Heaven will be a place with GATES and a WALL (Revelation 21:12-21). This indicates that we will be safe from all harm. We read that heaven will be our ETERNAL HOME! Solomon declared "For man goes to his eternal home and the mourners go about the streets" (Ecclesiastes 12:4,5 NKJV). Well, we see that every day. A lot of people are passing off the stage of action. It is estimated that about 250,000 people die every day and go to meet their Maker! They go to their long home. And we mourn for them and shed tears.
We will also have an eternal BODY! Paul wrote, "For we know that if our earthly house, this tent, is destroyed, we have a building from God, a house not made with hands, eternal in the heavens. 2 For in this we groan, earnestly desiring to be clothed with our [b]habitation which is from heaven, 3 if indeed, having been clothed, we shall not be found naked" (2 Corinthians 5:1-3 NKJV). Notice, our body will be "eternal in the heavens"
And then Paul wrote to the Church of Colossae about Christians who had been immersed in water and raised to walk a new life, "If then you were raised with Christ, seek those things which are above, where Christ is, sitting at the right hand of God. 2 Set your mind on things above, not on things on the earth. 3 For you died, and your life is hidden with Christ in God. 4 When Christ who is our life appears, then you also will appear with Him in glory" (Colossians 3:1-4).
The hope of heaven has cheered king, peasant, rich and poor, slave and free, literate, and illiterate down through the ages! Let every obedient Christian entertain the hope of heaven and seek that grand homecoming in heaven. Continue reading "HOMECOMING IN HEAVEN" →