By
Shelby G. Floyd
We are looking forward to our heavenly home where we can worship and sing new songs with our Lord Jesus Christ. And it is so good to see all of you today. I hope you have had a good holiday. Sarah and I are celebrating our 62nd anniversary today. We feel really blessed because a lot of people do not get that privilege, and we are very thankful.
How many of you have had a kind of a homecoming over the last few days? In this day and time, our children and grandchildren move halfway across the country. And it is not very often that you can get all of them together. In fact, the last time I think we were all together was on my 80th birthday. We met down in Florida, and so it seems like it takes a special occasion for families to have a true homecoming.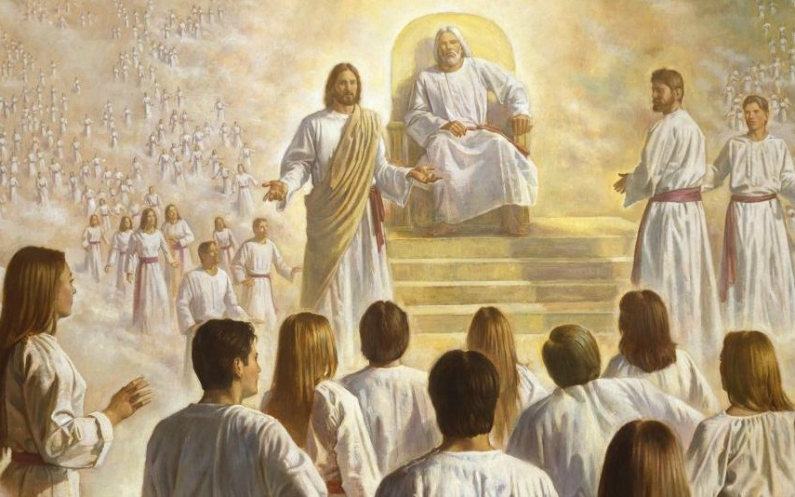 HOMECOMING IN HEAVEN
And that is what I wanted to talk to you about today—our homecoming in heaven! I was thinking this week about all our brothers and sisters that have left this earth since we started this congregation in 2000. We remember Jim and Bonnie Stephens and recently Jerry. We also call to mind George and Helena Thompson and their daughter Tricia and so many others. And I thought, they are no longer with us, but we are going to have a grand reunion one of these days and be happy forevermore.
Now if you were going to move someplace that you never had been before, would you not try to find out everything you could about it before you went there? I have a cousin that lives in New Zealand. I have never met her, but we communicate online. But if I were going to go over to New Zealand even to visit, I think I would do a lot of research and try to find out everything I could about the climate, the places to visit and things like that.
Well, I am surprised that so many people today when they get ready to draw their last breath and go to meet God, they don't seem to know very much about heaven. I heard a preacher say one time, "If suddenly God said that there is no hell, how many people would still want to go to heaven"? It maybe that there are a lot of people that just want to escape hell and since they do not know much about heaven, they do not really have too much desire to go there. And then maybe they think that it is going to be a place where Mitch and I will get up and preach all the time! And Damon and Jim will be constantly leading us in singing in worship. And they say, "If that is the way it's going to be, I don't think I really care that much about going."
Heaven is known by a lot of different figures of speech, and that is to help us understand that heaven is made up of beautiful and wonderful things. It's a Country, it's a City, it's a Kingdom, it's a Home. It's a Bride. Heaven is going to be like a bride adorned for her wedding day. And it's going to be a place of Rest. As you can see, there is a lot about what heaven will be like revealed in the scriptures and I want to emphasize that today. For instance, heaven will be a CITY. We like to be close to a city because of all the amenities that are available. The heavenly city will be 1500 miles square, so there will be room for everyone to enjoy what God has prepared for us. By faith Abraham "…looked for a city which has foundations, whose builder and maker is God" (Hebrews 11:10).
Heaven will be like going to the COUNTRY. We like to go out in the country. Heaven will be a place with GATES and a WALL (Revelation 21:12-21). This indicates that we will be safe from all harm. We read that heaven will be our ETERNAL HOME! Solomon declared "For man goes to his eternal home and the mourners go about the streets" (Ecclesiastes 12:4,5 NKJV). Well, we see that every day. A lot of people are passing off the stage of action. It is estimated that about 250,000 people die every day and go to meet their Maker! They go to their long home. And we mourn for them and shed tears.
We will also have an eternal BODY! Paul wrote, "For we know that if our earthly house, this tent, is destroyed, we have a building from God, a house not made with hands, eternal in the heavens. 2 For in this we groan, earnestly desiring to be clothed with our [b]habitation which is from heaven, 3 if indeed, having been clothed, we shall not be found naked" (2 Corinthians 5:1-3 NKJV). Notice, our body will be "eternal in the heavens"
And then Paul wrote to the Church of Colossae about Christians who had been immersed in water and raised to walk a new life, "If then you were raised with Christ, seek those things which are above, where Christ is, sitting at the right hand of God. 2 Set your mind on things above, not on things on the earth. 3 For you died, and your life is hidden with Christ in God. 4 When Christ who is our life appears, then you also will appear with Him in glory" (Colossians 3:1-4).
The hope of heaven has cheered king, peasant, rich and poor, slave and free, literate, and illiterate down through the ages! Let every obedient Christian entertain the hope of heaven and seek that grand homecoming in heaven.
HEAVEN IS A PREPARED PLACE
First, heaven is going to be a prepared place for prepared people. Before Jesus went back to heaven, among his final words he said, "I am going to prepare a place for you." Therefore these words were not just some afterthought. Just as God withdrew into himself and reflected on creating the universe, so also Jesus Christ gave a lot of thought about the place in heaven that he was going to prepare for his people. After Jesus informed his disciples that he would be put to death and then return to his Father in heaven, they were very sad to hear those words. Then Jesus allayed their fears and said,
"Let not your heart be troubled; you believe in God, believe also in Me. 2 In My Father's house are many mansions; if it were not so, I would have told you. I go to prepare a place for you. 3 And if I go and prepare a place for you, I will come again and receive you to Myself; that where I am, there you may be also" (John 14:1-3 NKJV).
Because heaven has been prepared for mankind, mankind must prepare for heaven, Therefore John writes in Revelation, "Blessed are they that do his commandments, that they may have right to the tree of life, and may enter in through the gates into the city" (Revelation 22:1 NKJV). No one is prepared for heaven, nor can they go there unless they put to death the old man and renew the new man by obeying the primary commands of the gospel, becoming a Christian and then living the Christian life every day. And it can be done with God's help and with the help of each other and the church.
But it will be a sad day for those who reject the proffered salvation by the Lord Jesus Christ. Paul wrote a letter to the church at Thessalonica and described what would happen to those who reject the gospel message:
"And to give you who are troubled rest with us when the Lord Jesus is revealed from heaven with His mighty angels, 8 in flaming fire taking vengeance on those who do not know God, and on those who do not obey the gospel of our Lord Jesus Christ. 9 These shall be punished with everlasting destruction from the presence of the Lord and from the glory of His power, 10 when He comes, in that Day, to be glorified in His saints and to be admired among all those who believe, because our testimony among you was believed" (2 Thessalonians 1:7-10).
So it is going to be a wonderful day for everyone who has obeyed the gospel, but it will also be a bad day for those who have rejected it out of hand! Therefore we should want to be ready and prepared for this wonderful place call heaven. It is a prepared place for a prepared people,
HEAVEN IS A PERFECT PLACE
Anything that Christ has anything to do with is going to be perfect. Heaven will be perfect in at least two ways: First, it will be perfect because there will not be any sin there. We will not get up read the daily newspaper in Heaven about all the crime that has been going on over the weekend! We will feel safe and secure. No one will mar the beauty and the bliss of heaven. Heaven is a wonderful promise of the perfect place, not for perfect people, but for people who have been made perfect by the blood of the lamb! But there shall by no means enter it anything that defiles, or causes an abomination or a lie, but only those who are written in the Lamb's Book of Life (Revelation 21:27). The writer says nothing impure will ever enter in it, nor will anyone who does what is shameful and deceitful, but only those whose names are written in the Lamb's Book of Life! Before you leave this earth make sure your name is inscribed in the Lamb's Book of Life. To those who enter heaven this is your wonderful promise, "And God will wipe away every tear from their eyes; there shall be no more death, nor sorrow, nor crying. There shall be no more pain, for the former things have passed away" (Revelation 21:4). Therefore in summary, number one, heaven is a prepared place; number two, heaven is a perfect place, and now number three, heaven is a place of rest!
HEAVEN IS A PLACE OF REST
After a long day's work, I have an idea that some of you couldn't wait to take a nap and rest up. We all need regular intervals of sweet rest and recuperation of our physical, mental, and emotional energies. God made us and He knows that we need rest, even in heaven! Heaven will be our rest.
In the letter to the Hebrews, the Jewish Israelites and the Jewish Christians were looking for a place of rest. Some thought it was in the land of Canaan, but they were sadly mistaken. But the Sabbath Rest for all of God's people is in Heaven! The writer to the Hebrews wrote, "There remains therefore a rest for the people of God" (Hebrews 4:9). The writer was not talking about the rest for the children of Israel who had looked for that rest in the land of Canaan, nor was he talking about the Old Testament seventh day Sabbath Day Rest that occurred every week. He was discussing the Eternal Sabbath Rest that we will have in heaven. And so he urges all of us to give diligence, to get involved and to give it everything we have so that we will not lose that REST: "There remains therefore a rest for the people of God. For he who has entered His rest has himself also ceased from his works as God did from His. Let us therefore be diligent to enter that rest, lest anyone fall according to the same example of disobedience" (Hebrews 4:9-11). Let all of us be diligent lest we might fall short of our Eternal Rest. This heavenly rest is the promise that God has given us for faithful Christian service to the Lord throughout our lifetime and is again promised in the last book of the New Testament:
"Then I heard a voice from heaven saying to me, "Write: 'Blessed are the dead who die in the Lord from now on.' " "Yes," says the Spirit, "that they may rest from their labors, and their works follow them." (Revelation 14:13). Therefore, since heaven is a place of perfect rest, we must not miss out on it, because those who do, "… and they have no rest day or night, who worship the beast and his image, and whoever receives the mark of his name" (Revelation 4:11). So far we have noticed that heaven is a prepared place, a perfect place, and a place of eternal rest. Now we conclude this topic by pointing out that heaven is an everlasting place!
HEAVEN IS AN EVERLASTING PLACE
In the last two chapters of Revelation heaven is described as a great and beautiful city. Heaven is pictured with walls and gates and streets and many other dazzling features that captures the imagination of man. Heaven is just as real as Indianapolis or New York city. God is infinite and he uses language familiar to us to accommodate us in ways we can understand what heaven is like. In Revelation 22:5 it is declared that there will be no more night, there will be no need for the light of a lamp or the light of the sun, for the Lord God will give light and his people will reign forever and ever! So in heaven it's going to be an eternal day, eternal joy, and eternal life. The Son of God is the light of that celestial city. Therefore the sun will never shine in heaven because the Son of God will be in the very midst of it.
Therefore my friends we need to listen to everything that God has said about heaven, because that is where the saved are going. And when we draw our last breath we do not need to be fearful, but just remember all those beautiful things that God has written in his word that describes how wonderful heaven is going to be. Like David we can say, "Yea, though I walk through the valley of the shadow of death, I will fear no evil: far thou art with me; thy rod and thy staff they comfort me" (Psalms23:4).
One has written these words of joy about heaven:
If I had all the words in our language to use at a moment's command                                            If I had all the beautiful pictures of nature, the sea, and the land,                                                    If I spoke in a voice never ending speaking only of loveliness,                                                            I couldn't begin to tell you how beautiful heaven is.
The plea of the Lord Jesus Christ is, "And the Spirit and the bride say, "Come!" And let him who hears say, "Come!" And let him who thirsts come. Whoever desires, let him take the water of life freely" (Revelation 22:17). I am looking forward to the grand homecoming in heaven. Make sure your name is in the Lamb's Book of Life. If you haven't started on that beautiful journey to heaven, now is the time to make that crucial decision. Make sure you will be allowed to enter "…into an inheritance that can never perish, spoil or fade—kept in heaven for you" (1 Peter 1:4).
*Copyright © 2021 Shelby G. Floyd, All Rights Reserved
*Shelby G. Floyd delivered this sermon December 26, 2021, at the Heartland Church of Christ, 1693 West Main Street, Greenwood, Indiana 46142